Marvelous range of best kids swimwear for summer season in India. Shop amazing swimsuits for baby girls and boys in beautiful colors and patterns. When we talk about summers, we cannot resist ourselves talking about swimming pools, beach outings, summer holidays, sun and sand. Whether you kid is an expert swimmer or he is just learning the basics or he is simply a beach lover, you need to buy him smart bathing suits and swimming costumes to make his swimming sessions all the more interesting. Markets are loaded with beautiful children swimsuits and kids beachwear in vibrant colors and styles to suit your taste.
This post brings to you the ultimate collection of designer swimwear for boys and girls in mesmerizing prints and patterns which are a perfect blend of comfort, style and sun protection. So just read on and find out the best swimming clothes to add to your child's wardrobe for a perfect look.
Toddler Girl Rainbow Designer Swimming Costume
Dress up your little diva in the most amazing rainbow colored ruffle styled swimwear. This vibrant costume comes with ruffles in different colors with spaghetti straps and cross back pattern. This is surely one of the most fashionable and fabulous beachwear to buy for your little baby girl to dress her exclusively for beach outings this summer season.
Frozen Elsa Baby Girl One Piece Swimwear

If you are looking for a more comfortable and long swimwear for your child then go with this beautiful pink colored bathing suit for your kid which comes with a Frozen Elsa print on the bodice. This beachwear comes with long sleeves and shorts style which keep your baby covered on a hot sunny day, keeping her protected from harsh sunrays and tanning.
Baby and Kids Swimwear with Floral Pattern
Get your hands on this classy and smart swimming costume in white color. It comes with a mesmerizing pink floral design on the bodice with pink colored net frills attached below the waistline giving it a stunning look. This is a must have swimming clothing for young girls to make their beach outings all the more refreshing and stylish.
Zebra Stripe Childrens Swimming Costumes

Give a completely stunning look to your baby girl with this exclusive designer swimming costume which comes with black and white zebra stripes animal print. This fashionable halter neck beachwear clothing comes with pink finishing which lifts the mood of this bathing suit in the most exceptional way.
One Shoulder Baby Girl Swimwear
Dress up your little princess in the most beautiful pink colored childrens swimming costume. This designer kids beachwear comes with one shoulder pattern net frills attached below the waist. It comes with a matching cap to protect the hair of your child while enjoying her swimming session.
3 Piece Kids Swimwear & Swimsuits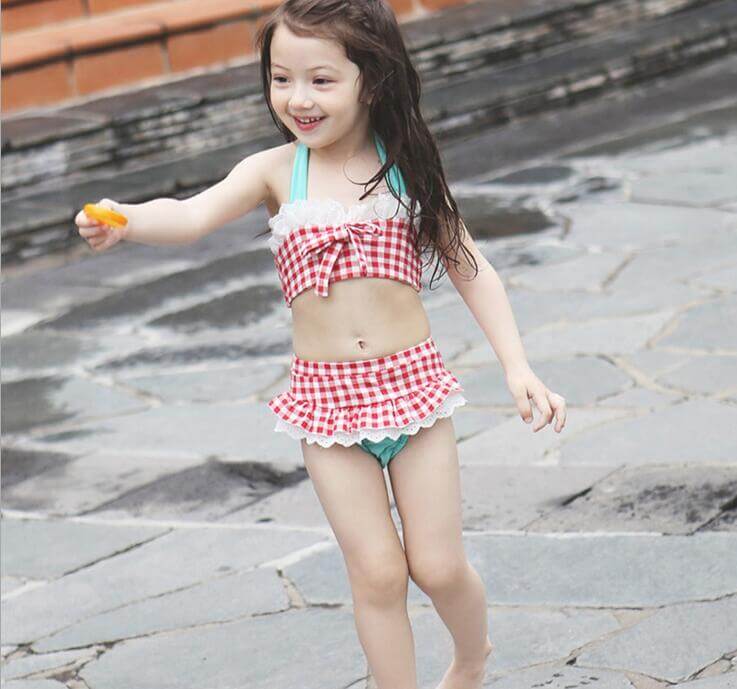 If you are looking for something stylish and unique then this beautiful 3 piece swimwear set for baby girls in red and white checks is an interesting piece to shop online. This wonderful beachwear is a perfect bathing suit for all those girls who love to try something different and fashionable.
Boat Print Summer Beachwear
Give your baby boy a wonderful makeover for the beach holiday outings with exceptionally smart red colored swimming trunks. It comes with a boat print on the back and promises a stunning look for your kids for summer swimming parties and beach outings.
Swimwear for Boys with Pink Fish
Go with green swimming trunks to dress up your young boy for beach outings this summer season in a more stylish manner. These cute little trunks come with a pink fish patch at the back and pink fins on the sides giving it an amazing beach like feel. Dress up your young prince in this exclusive designer beachwear and baby boy swim shorts.
We have swimwear for babies starting from ages 0 – 3 months, 3-6 months, 6-9 months, 9-12 months, 12-18 months and 1 to 7 years.
Choose from some of the most wonderful kids swimwear in India which can be shopped online. Give your child a wonderful makeover this summer season with these stylish designer childrens swimming costumes which are just a click away.