Krishna Janmastami is the auspicious day when Lord Krishna was born. This day is celebrated with high spirits, especially in Northern India. Various events are organized on this day to celebrate the birth of Kanha. In 2022, Janmastami will be observed on 18 August and children will be dressed beautifully as Krishna or Radha. Fancy dress competitions for kids are organized in different cities along with Ras Leela, Dahi Handi for adults.
If you also wish to Krishna dress up your baby boys and girls on the festive occasion of Janmashtami 2022 then we bring to you some beautiful Lord Krishna costume ideas and Radha costume ideas for kids fancy dress.
Krishna Dress for Baby Boy Online – Janmashtami Outfit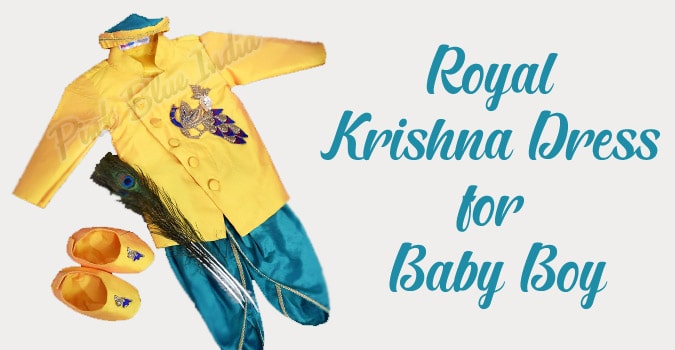 Celebrate Krishna Janmashtami with these cute Krishna Dress for baby boy. Festive Krishna costume to make weddings and parties more royal for baby boy. An asymmetrical silk jacket with zardozi work and handmade peacock motif in yellow has been paired with blue silk dhoti. This unique silk dhoti kurta set for newborn baby boy comes with matching cap and juttis to give your little Kanha a perfect look this Janmashtami by online shopping this attire with PinkBlueIndia.
You May Like : Newborn Baby Jamna Set
Radha Outfit/Onesie Janmashtami Dress for Baby Girl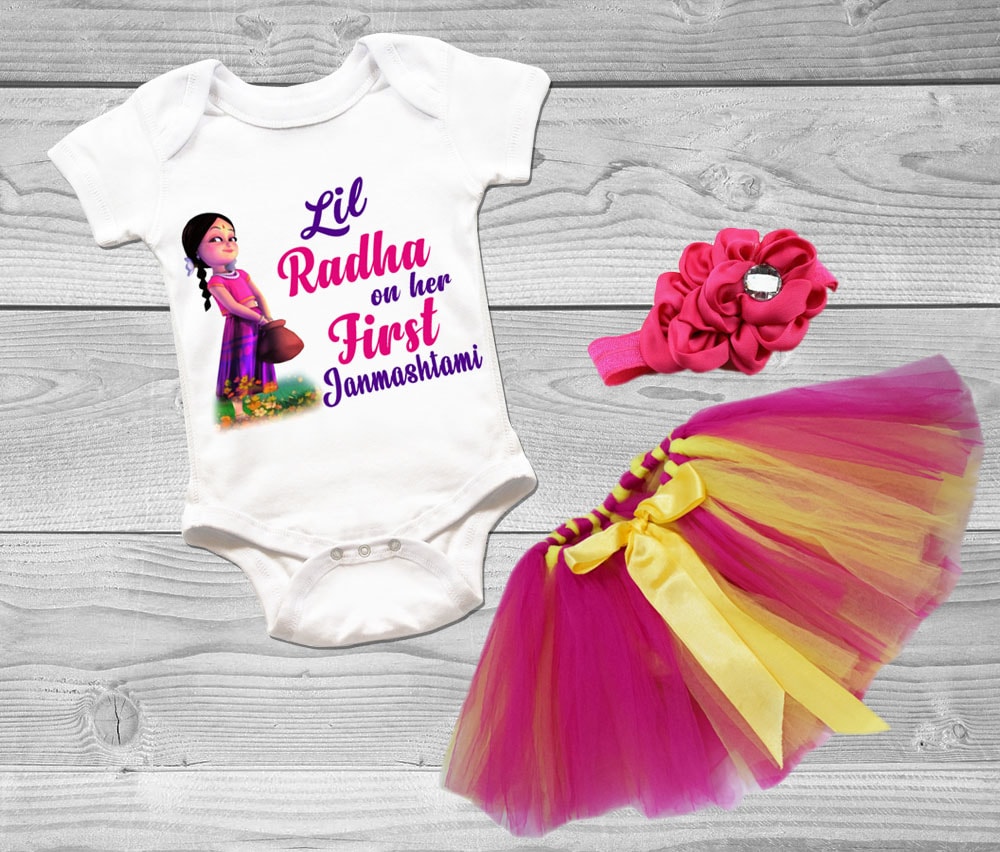 Dress your baby girl in Radha dress for Janmashtami. Customized Radha onesie, tutu skirt dress and matching headband. Prefect Radha outfit for newborn baby to 1-year Girl.
Little Krishna Dhoti and kurta Set for Babies
Cute Krishna dhoti and kurta set for babies is one of the most popular choices of baby Krishna dress for online shopping. Designed in festive colours like tangerine orange, yellow and red, its make a perfect traditional Indian attire for little babies to dress pretty for Janmashtami.
Accessories for Krishna Costume
Don't forget to pick matching accessories for Krishna costume which include jewelry including kundals, bangles etc. which match perfectly with their Lord Krishna costumes. Add some nitty-gritty to their look with these lovely accessories which make their look award winning.
Little Kanha Crown
Crown your baby like Kanha with sparkling little crowns made with love for baby Krishnas in India. These crows are beautiful replication of those worn by Krishna and look amazingly gorgeous thereby adding more festive look to the complete look.
Flute or Bansuri
The look of Kanha is incomplete without a flute. Therefore, make sure that you include a bansuri in the Janmashtami costume of your baby Krishna. You can always have it put in his kamar bandh so that it stays in place and ensures perfect Kanha look for your baby.
Jewellery for Krishna Costume
Don't forget to make your little one wear some jewelry because even Krishna used to dress up with some jewels including earrings, armlets, bangles, necklace etc. Include any of these accessories while dressing up your baby boys and baby girls as these jewelry pieces will make it a flawless look.
Lehenga/Ghagra Choli for Girls – Radha Fancy Dress Costume
If you wish to dress your baby girl as Radha then the best dress for this look is a pair of Lehenga Choli. There are various kinds of Kids Lehenga & Ghagra Choli in beautiful festive colours. Some even come with a chunni to help you have an attractive baby Radha dressed up gorgeous for Janmashtami celebrations.
Jewellery/ Accessories for Radha Costume
Your Radha will not look like one until you include some sparkling jewelry to dress her. Don't forget to have matching bangles, necklace and earrings added to her look. She will win all hearts with cute ornaments that will promise her the best look.
Personalized Happy Janmashtami T-shirt for kids
If you wish to keep it simple then there is nothing better than personalized t-shirts for kids designed especially for Janmashtami. Printed with images related with Kanha and his birthday, these customized Happy Janmashtami t-shirts make a wonderful wear for children.
Little Krishna First Janmashtami Baby Romper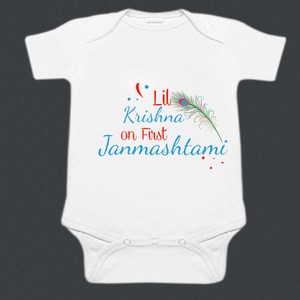 Make it a memorable and marvelous festive occasion with First Janmashtami onesie for your little Kanhas and Radhas made with love. Beautiful prints and lovely colours ensure a comfortable fit and celebrate this pious occasion in a wonderful way. Shop Online for Baby First Janmashtami Full/Half Sleeves Onesies in India
At PinkBlueIndia, we customize these adorable Krishna and Radha dresses for babies, just the way you like it so that you don't have to make any compromises. So get ready to have your babies dressed in beautiful baby Krishna dresses and Radha costumes for fancy dress competitions by shopping online with us.