You can surely add more fun to your little one's clothing with humorous and funny baby onesies in India. Thanks to the creative and out of league designers, they have taken baby clothing to just another level with hilarious baby onesies and funny baby rompers. Not only these half ½ birthday rompers are comfortable but they are also the funny baby rompers in India to shop online.
Get the best of customized funny baby clothes online in India and the most adorable personalized cute onesies for girls or boys printed with graphics and texts that can tickle your funny bones. The best thing about these funny and customized rompers is that they make a promising baby shower gift, birthday gift to make special occasions all the more memorable.
You can make their first year super special with milestone funny onesies, Cute Onesies for Newborn Babies that can make you laugh out loud. Funny Twin Baby Clothes and cute funny baby rompers are the trend. Whether it is a monthly milestone or photo shoot, first birthday or any other celebration, these fun-to-wear funny rompers for babies and humorous onesies make a special wear!!!
Here's a unique collection of Cute and Funny Baby Onesies:
Explore the world of exquisite and special funny baby onesies for boys and girls that make a wonderful clothing to buy. Select from the funny baby rompers for boy and girl and sarcastic baby clothes to dress your babies different….
Baby Romper with Funny Quotes
Fashion blended with comfort and funny quotes makes an irresistible combination. Jolly and funny slogan baby rompers make unique baby onesies to dress up baby boys and girls. Simple white cotton baby romper with a witty quote make an unforgettable wear. Buy Now
Cute and Funny Baby April Fools Onesie
Onesies are the most comfortable and timeless wear for babies and with April Fools onesie, you can truly celebrate April 1st with more cuteness and laughs. Dress up your little baby boys and girls in the most adorable bodysuits and rompers designed for this special day. Shop for the best of April Fool's Day onesies for newborn baby girls and boys to dress them in something unique. Funny April Fool's baby onesies promise to add extra fun to this day. With these fun to wear April Fools baby onesies, you can capture some beautiful memories of your baby for his very first April Fool's Day.
Read also: My First 4th of July Onesie
Funny Bodysuits for Newborn Baby Girl
Dress up your newborn baby girls in funny baby onesies designed for a chuckle. Don't think of these cute and funny bodysuits as weird baby clothes because they are a combination of hilarious prints and greatest comfort. Buy Now
Cute Funny Baby Romper for Boys
Have your baby prince charming dressed in funny baby clothes in India. Loaded with love and comfort, these funny baby onesies are to die for. Each of these funny baby boy rompers are printed with some exceptionally witty quotes to induce a great laugh!!!
No Hair Don't Care Funny Infant Baby Bodysuit
Adorable pick from the collection of funny baby clothes for boys and girls loaded with love. "No hair, don't care" white romper makes a fab funny baby romper to have your little hearts dressed in this cute romper which promises great fun.
Double Trouble Twin Funny Baby Onesies
Celebrate the arrival of your twins with this funny twin baby romper which creatively defines the fun of having twin babies. A double trouble hilarious baby onesie combination makes a funny twin baby clothing to shop online for your babies.
Dad's Biggest Fan Baby Funny Bodysuit
For kids who adore their dads the most, this hilarious baby onesie is the best thing to have. This is the funny baby romper for boy and girl with "Dad's biggest Fan" printed on it. Even the dads will be surprised to see their little ones wearing this funny baby romper.
I've got Swag like Daddy Baby Funny Romper/T-shirts
Cute funny baby romper with "I've Got Swag Like Daddy" printed for a cool wear. For an unmatched style and swag, this white cotton baby romper makes a fantastic funny romper clothing to have the little darlings dressed as a gift to their dads on Father's Day or birthdays!!!
Funny Grandma Baby Onesies
Grandchildren are the apples of the eyes of grandparents. And this funny grandma onesie is the most beautiful way of letting your grandma know that she is the best. This is a cute funny baby romper which will work as the magical surprise for the granny!!
Read also: Birth Announcement Onesie – Make a wonderful Gift for a New Baby.
Funny Baby Clothes from Uncle & Aunt
Designed specially for the love the nieces and nephews have for their uncles. Loaded with love funny baby clothes from uncle and aunt make a wonderful funny baby romper boy and girl to dress up smart and tell this world that they have an amazing uncle and aunt.
Printed Funny Slogan and Quotes Kids T-shirts Online
Cool kids t-shirts printed with some witty, funny and cute slogans and quotes are the best way to pep up shorts, jeans and skirts for baby boys and girls in India. A product of creativity and humour, these amusing printed tshirts for children are loved by all.
Daddy or Mommy or Baby Funny Matching T-shirt and Romper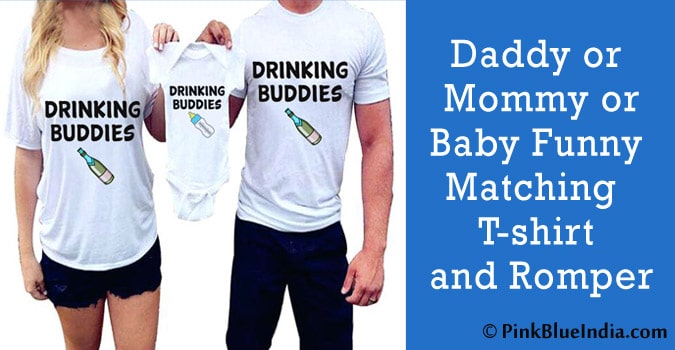 Dad and son matching t-shirts, mom and baby coordinated t-shirts are the newest trend to follow. Dress alike with funny father and son matching outfits and mother and daughter matching clothing. This is certainly the best way to dress as a family for holidays or special occasions.
With such wonderfully designed funny baby onesies for baby boys and girls, keep it simple and unique for your little munchkins!!!
This page was last modified on Thursday, March 12, 2020