Fashion and girls are inseparable and it stands true even for your 8 year old baby girl. Just like girls of any other age, she is also particular about the color, style and pattern of the dress. So if you are looking for party dresses for 8 year old girl, you cannot just go with anything.
In this post, we bring to you the most enchanting collection of birthday dresses for 8 year old girls. Browse through these unmatched 8th birthday party dresses exhibiting latest styles and unique designs that will surely impress your little princess. Have a look at the best of couture baby and child gowns, 8 year girl dress frock and various other kids party wear dresses to get your hands on the right pick.
Latest and Trendy Party Wear Dresses Designs for 8 Years Girl
Have your little baby girl follow the latest fashion trends with unique 8 year old girl party dresses. Shared below are the finest 8 years girl dress designs that rightly complement the occasion.
Pink Kids Party Wear Dress for 8 Year Girl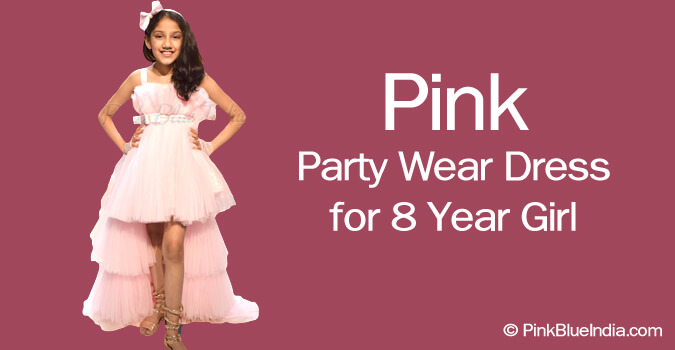 If she loves pink then she is going to love this 8 years girl party wear dress that makes a fantastic outfit to dress her up as she reaches another milestone. Go with this enticing party wear dress for 8 year girl that meets her pink dress standards and promise to make her look the prettiest.
Read Article: Trendy Party Wear Gown for Birthday
Couture Long Gown for 8 Year Girl
Couture gowns have the potential to get your princess all the light she deserves on her special day and with such stunning choice of long gown for 8 year old girls, you are sorted. She is going to look nothing less than a diva dressed in this fabulous work of art that is truly irresistible.
Read also: Peplum Dress For Girls
Birthday Dress for 8 years old Girl
If you are in search of the finest 8 years girl dresses online India then this birthday outfit makes a worthy purchase. She will stand out dressed in this lovely kids party dress that has been designed to make her eight birthday super special and gorgeous.
Princess Ball Gown for 8 Years Girl
For the girls who love to done gowns, this princess ball gown makes a classy pick. She is going to steal the show with this elegant ball gown which makes one of the finest choices of 8 year girl party dresses. Have her look the best on the day that she is going to remember forever because of this designed dress.
8 Year Party Wear Baby Girls Lehenga Choli
If you wish to dress up your eight year old daughter in something traditional then what's better than a party wear lehenga choli. This ethnic wear not only makes a fantastic pick of dress for her 8th birthday but it also makes an adorable 8 years girl dress for wedding. She is going to love dressing up in this bright and sparkling lehenga on her birthday.
Designer 8 Years Girl Long Frock Online India
Keep it simple but stylish with the designer 8 years girl dress frock. This fantastic frock is a perfect fusion of comfort, fashion and elegance that will bring out the best of her personality. Not only she will enjoy wearing this lovely frock but will also look the best ever dressed in this exclusive designer.
8 Year Girls Tiered Ruffle Princess Party Dress
Ruffles are beautiful and fun and therefore, this tiered ruffle dress makes an adorable pick of party dress for your princess. Make her 8th birthday a day full of fashion and style with this enticing designer ruffled dress that adds on to the grace and glamour of your little princess.
Party Wear Sequin Dress for 8 Year girl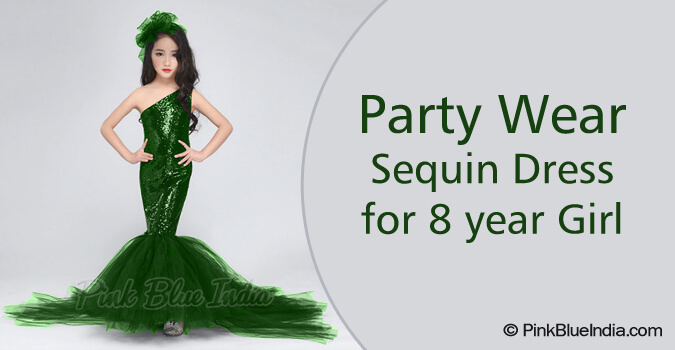 Designed to add some sparkle to her special day, this party wear sequins dress for 8 year old girl is to die for. She is going to love putting on this trendy outfit that is all about sequins and love for sequins that your baby girl has. This party wear dress is never going to disappoint her but will always bring a smile to her face.
Unicorn 8th Birthday Party Dress
Dedicated to the love for unicorn, this birthday party dress is a worthy pick to rock her 8th birthday celebrations. Loaded with lots of love and beautiful colors, this exclusive birthday dress for 8 year old girls makes a fun to dress outfit. She is going to look simply stunning dressed in this designer wear.
Flower Girl Dresses for 8 Year old
Have your baby girl dressed in this bright and pretty flower girl dress for 8 year old that is too pretty to miss on. This is a simple but fantastic dress to celebrate her 8th birthday in something different. She is going to adore this dress as it is adorned with flowers that always attract kids.
We also make customized Party Wear Dresses and frocks for 8 year old girls. Contact us at +918000011699 or WhatsApp us on +91-8003550118 or simply drop us an email with your requirements at [email protected] and we will be happy to help you.
More Girls Party Wear Dresses, Gown and Frocks
2 year Girl Dresses
3 year Girl Birthday Dresses
4 year Girl Party Dresses
5 Year Girl Party Dresses
6 Years Girl Birthday Party Dress
7 Years Girl Birthday Dress
9 Years Girl Party Dresses
10 Years Girl Dress For Birthday Party